K12 – Changing Spaces, Changing Aesthetics
11/15/2022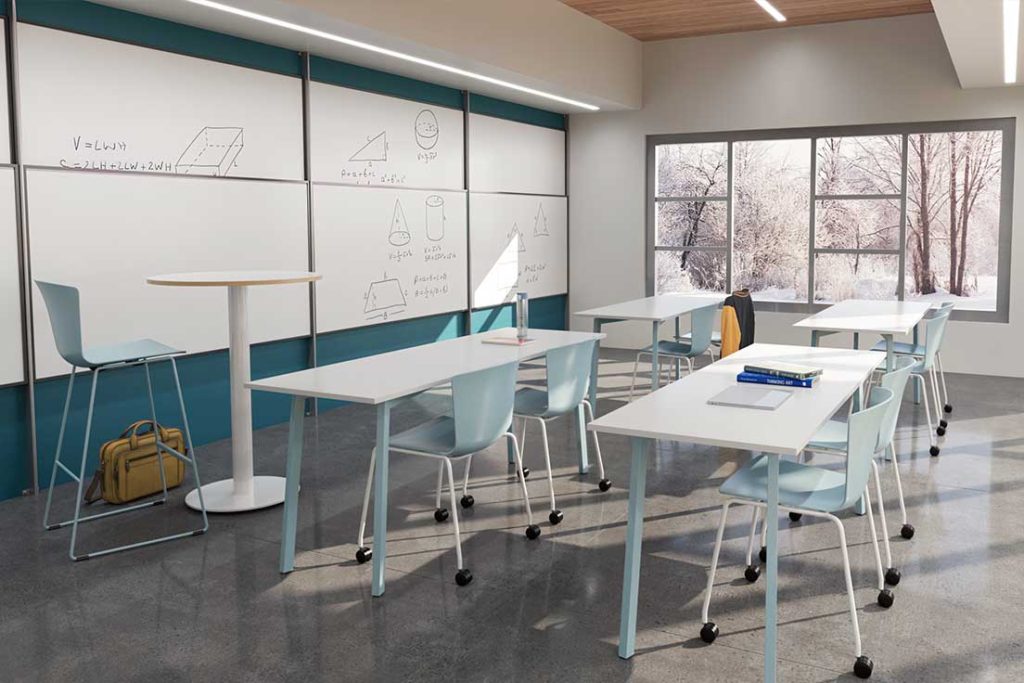 At Leland, our goal with school furniture is to promote consistent design values throughout the entire educational facility. It has been shown that the aesthetic properties of classroom spaces carry the subliminal power to elicit feelings of safety, comfort, and a sense of belonging, potentially impacting learning as teachers notice increased engagement when students feel good, happy, relaxed, and safe.

1/2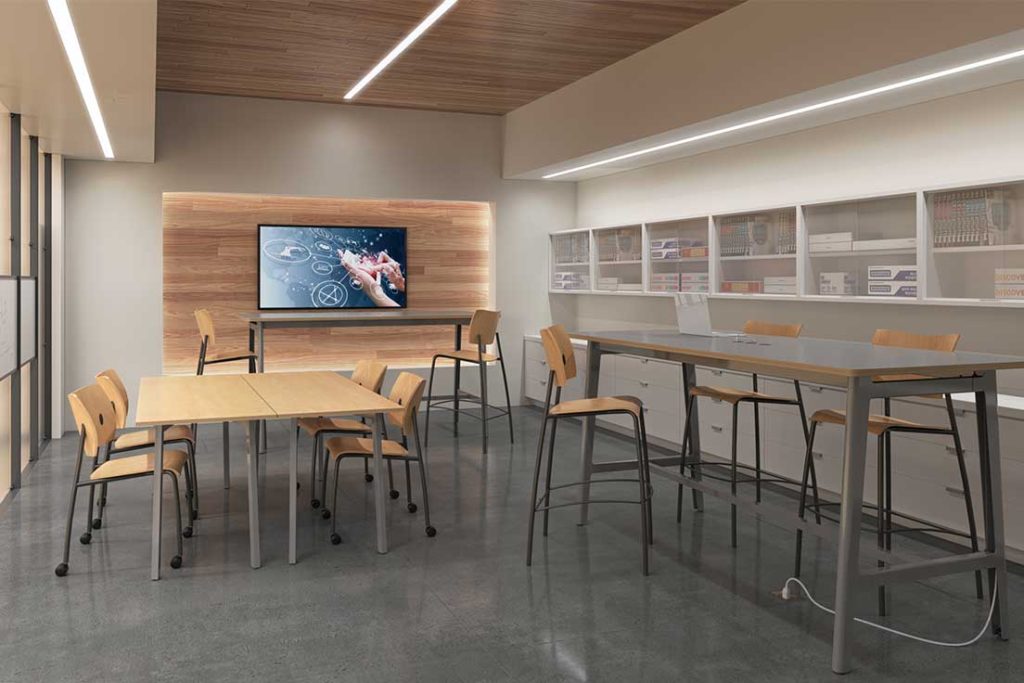 2/2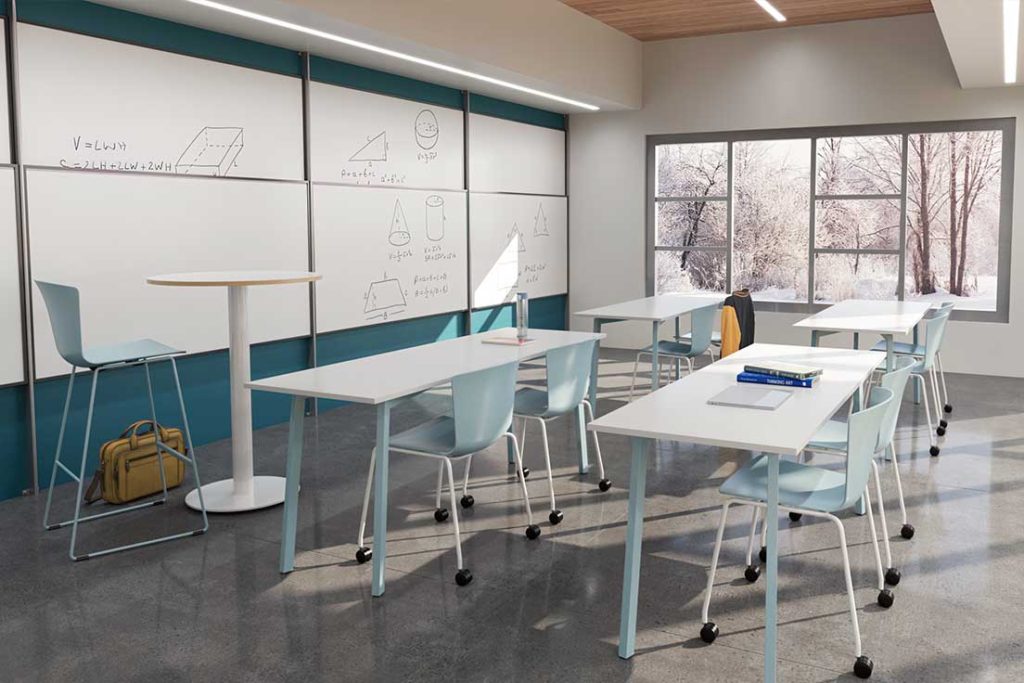 Warm woods or colorful poly finishes - two identical classrooms evoke very different moods with a more considered approach to materials and colors.
In this room, a flexible project-based or team-teaching space relies on the warmth of wood and soft grey metals for a sense of calm combined with the richness of traditional study environments, even when a more modern pedagogical style is employed.
In a 2004 publication about aesthetics and education, S.K. Chung's exploration of Zen presents the idea that aesthetic experiences possessing the characteristics of simplicity, naturalness, and tranquility can be critical agents that enable students to be calm, perceive, and illuminate their minds. The results of his study suggest that the impact on learning can be negative when students feel anxious, excluded, or overwhelmed.
[Chung, S. K. (2004). Zen (Ch'an) and aesthetic education. In Teaching for Aesthetic Experience: The Art of Learning (pp. 33–47). P. Lang.]
Recent research has determined that learning is an 'embodied experience', meaning that something occurs when there are salient elements contributing to the memorability of the experience. At Leland, we believe that intentional classroom design and the utilization of aesthetics can improve student enjoyment levels and increase overall engagement.
New Spaces and Dual Purposes
A STEM classroom needs to accommodate science, technology, engineering, and math projects in addition to other subjects. Not only must a space be flexible enough to cover so many topics, but a room may also need to be used in different ways at different times, or in different ways at the same time.
The furniture should also allow the classroom to have a different layout each day. The goal is for students to make the space their own and have the ability to move the furniture in creative ways. STEM Classrooms are considered flipped classrooms, where the students learn through hands-on activities and working in teams. One moment the classroom will be set up for a formal presentation or lecture and the next it might need to accommodate hands-on group projects. Students' involvement in the process of creating their environment empowers them by developing community and increasing motivation.
In a successful STEM layout students will begin viewing each other as resources and tools for enhancing their learning experience: the arrangement of space impacts the energy in the room. With the energy gathered in the center of the classroom, there is a high degree of collective encouragement and more active discussion.
1/1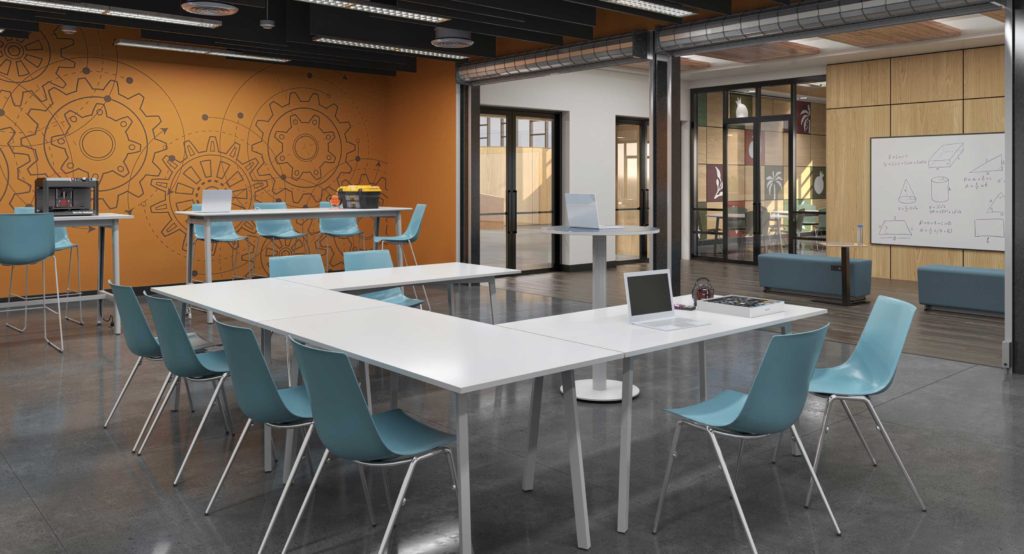 Roll-up doors allow increased utilization of adjacent spaces: the corridor beyond has powered benches and whiteboards so that study groups can overflow and gather for break-out discussion sessions and work. Leland's Quarry Mobile tablet-stand and technology in the Ebb benches enable devices to be used anywhere. Inside the main space, the high Fixed tables have Corian tops and the Amadeus seating is polypropylene – both materials lending themselves to maker-space and lab-type activities.
STEM classes reveal the truth that while individuals have good ideas, teams can have even greater ones. Dividing into teams often requires breakout areas where teams can collaborate separately from others. Most classrooms aren't large enough for this, but with movable walls, the appropriate furniture, and tools, many underutilized common areas, such as corridors and even adjacent cafeteria spaces, can achieve a higher rate of utilization if designed to support these breakout sessions.
Multi-purposing food-service spaces:
The café is often the most underutilized space in a school. Used for perhaps less than two hours in any day, simple alternative furniture choices can raise that level of use quite substantially. The same space can be used for team meetings, small group sessions, and even for parent events if the furniture is an upgrade from the typical tables-with-attached benches type of furniture. With the addition of technology, these spaces can be purposed as another auditorium or presentation space.
1/3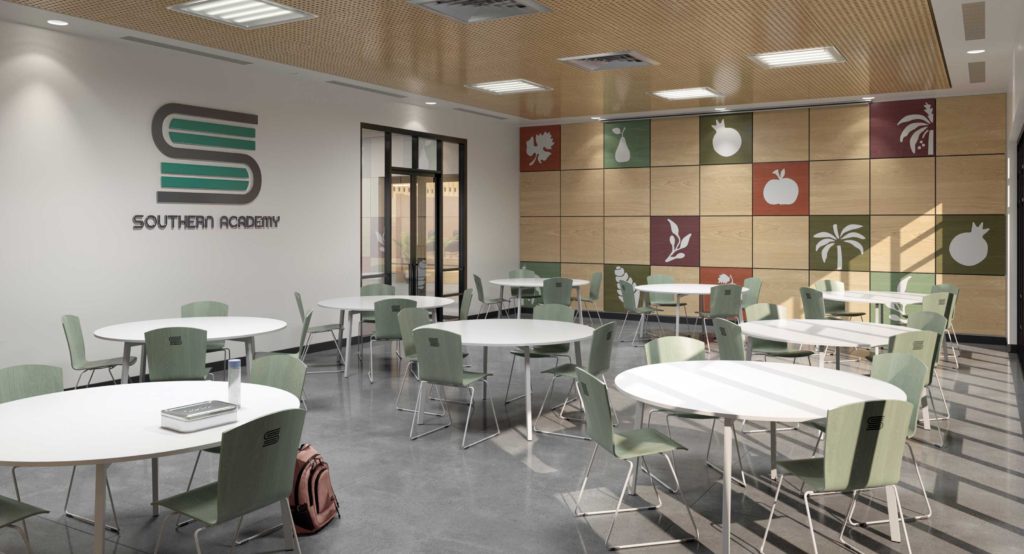 2/3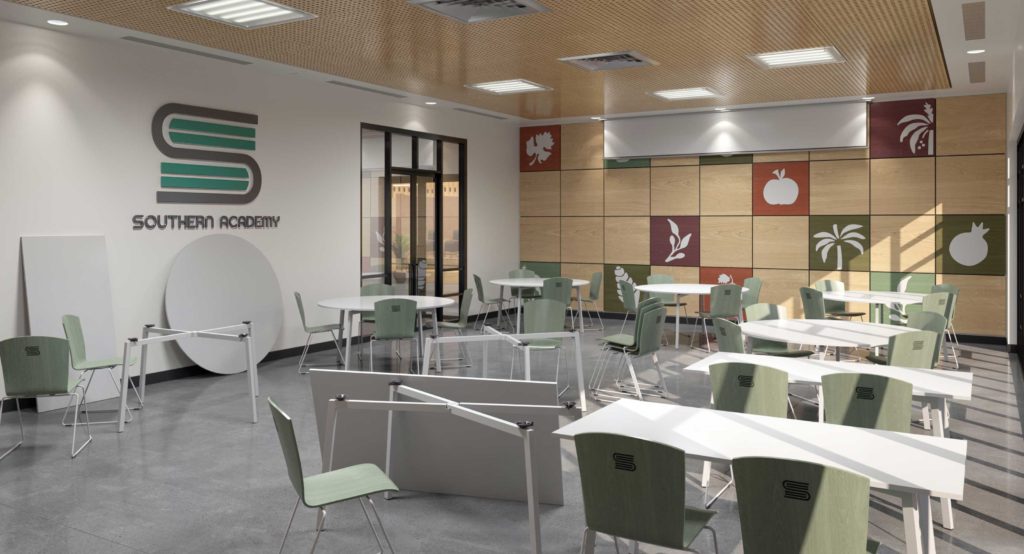 3/3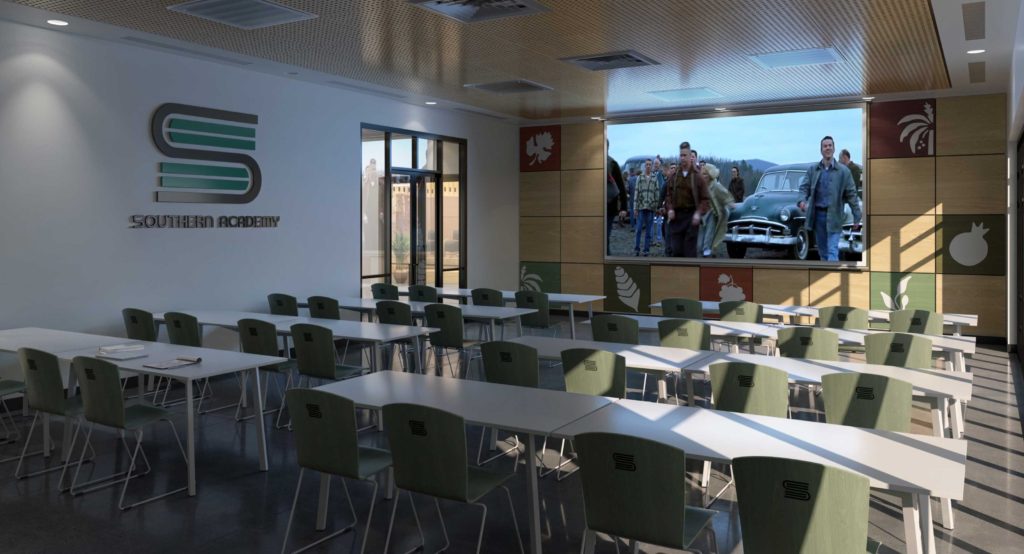 Aside from using a food-service area for some class exercises, specifying something other than just benches attached to picnic-style tables allows for even higher utilization. The collapsible Fast Table with folding legs can receive different shapes and sizes of tops enabling both a forward-facing training layout or a more elegant round dining layout for evening and parent events. While one set of table bases remain it is only the optional round or square tops that need to be switched out for a completely different purpose and aesthetic. Marquette chairs in a semi-transparent stain have custom logos on the seatbacks.
While a private school's brand is much more than a logo and a mascot - it's a message to parents and students about what a school is all about – Leland's furniture offers a way to display a logo that reinforces and shares the sense of 'place' and branding for a school. All of Leland's wood chairs can have custom artwork or logos as either a cut-out or an engraving on the backs of the chairs.
All too often school furniture is purchased as an afterthought, too often also seen as low status, with the consequence that the intended benefits of a new school are diminished by inappropriate furniture. Poorly-designed unattractive furniture results in students feeling a lack of ownership over the furniture, encouraging vandalism and graffiti, and shortening its life span. At Leland we believe that a school's physical environment affects morale and student learning, and that the environment should match your objectives, both in terms of human interaction and your instructional approach. Today's children are part of a design-conscious society and this awareness extends to the furniture they use. Good furniture indicates that the purchaser respects the children - in return, they are more likely to adopt a more positive attitude which is more conducive to learning.