K12 Environments
09/07/2021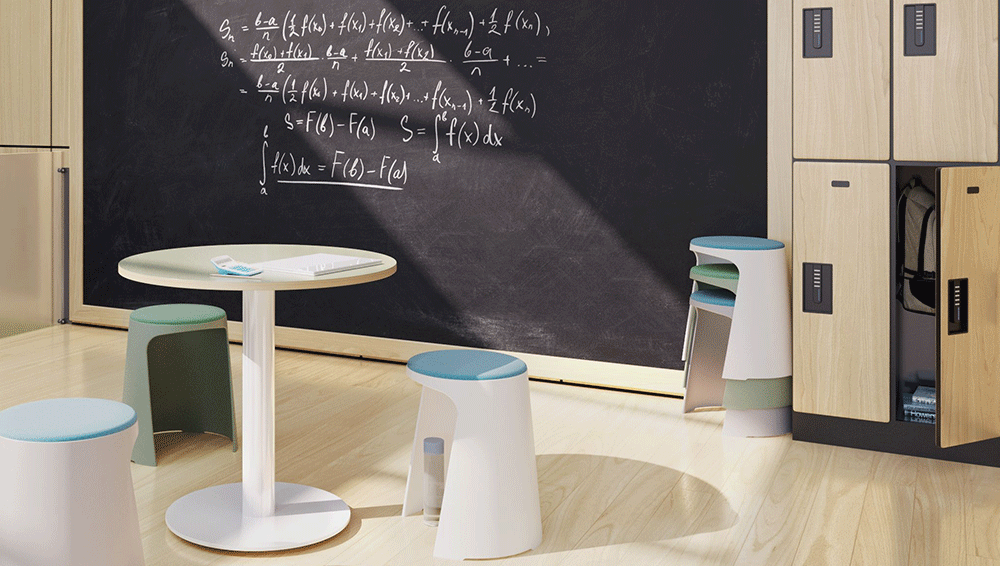 To us and our team in Grand Rapids MI, it's not only about the joy in making, but also the joy in learning. We believe when it comes to formal education finding joy is an essential ingredient.
While the design and layout of spaces are now understood to be very impactful in K12 environments, the nuances found in color, materials, and finishes are still not being given sufficient attention. Like the old adage "Show me your workspace and I'll tell you what your employer really thinks of you", Leland says "Show me your school and we can tell you what the expectations are."
Modern schools in our knowledge economy are essentially places with the same purpose for fostering inquiry and embedding both the capture and the exchange of knowledge in the way that office spaces are encouraged to do.
Having been stuck for many decades with what could be called a factory-model classroom, teachers are now facilitators of instruction, guides to the curriculum, rather than a sole source of instruction. In response the role of the student has also changed, becoming more of an active participant in the learning process. With educators shifting their philosophical approaches to teaching and learning towards an emphasis on new methodologies centering on critical thinking skills, deconstructionism, and a lot of collaboration, new teaching formats such as flipped learning, maker education, STEM/STEAM, and STREAM education have become commonplace.  In light of all these advances, what should modern learning spaces look like, and at Leland we ask: what should learning spaces feel like?
Ideally, all of these learning modes are best located in the same physical space and arranged in such a way as to minimize any disturbances between them. The new model is one of the combined learning spaces in a decentralized design since the focus is on the students.
"Modern schools in our knowledge economy are essentially places with the same purpose for fostering inquiry and embedding both the capture and the exchange of knowledge in the way that office spaces are encouraged to do."
1/1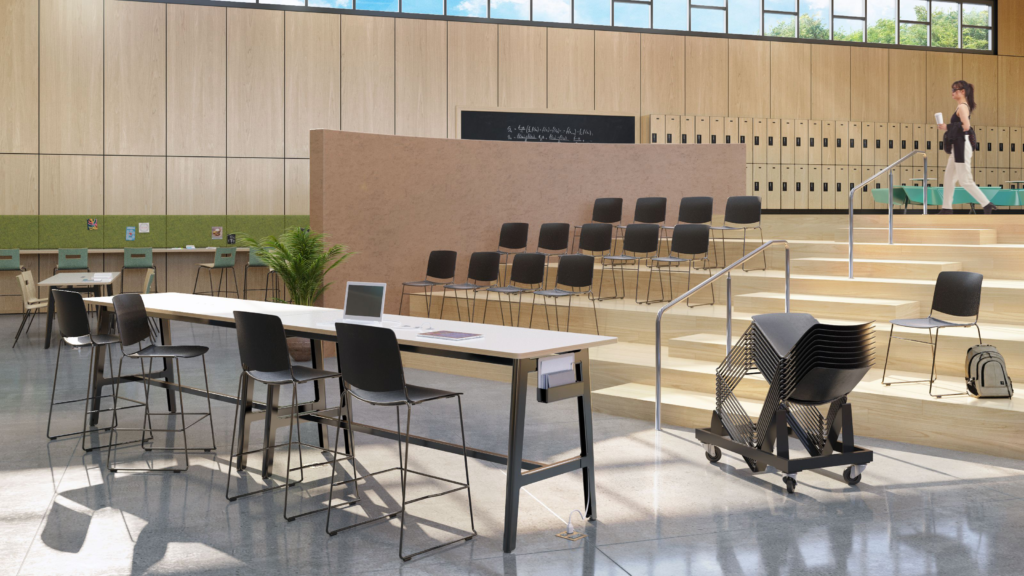 Product: At the gathering stair, we see a particular moment when high-density stack chairs (Leland Mass) have been set up for a more formal event, in this case, a panel discussion with an invited audience. Leland's high Fixed tables are easily and quickly powered from the floor to accommodate the necessary equipment and matching stools also stack as easily as the hi-density Mass stacking chairs. On a more typical day, the stairs serve as a place for encountering and engaging with the larger space and community, and for stopping to sit for a conversation or impromptu meeting.
Application: The atrium with gathering stairs is a feature in many new institutional designs and is now often being added to link older buildings in more traditional settings. Conceived as a place for gathering and collaborating, these spaces are intended to nurture idea-sharing and communication between teaching faculty and students, as well as between disciplines. Often regarded as an 'information commons' such spaces serve as an informal living room for congregating, supplemented with smaller articulated spaces for quiet study and group meetings. Many schools treat them as more of an innovation space, featuring abundant technological resources for research and information with the emphasis on virtual tools over traditional reference materials. A range of furniture for casual encounters will be found along with the tables for group activities and some private study carrel-type arrangements.
1/1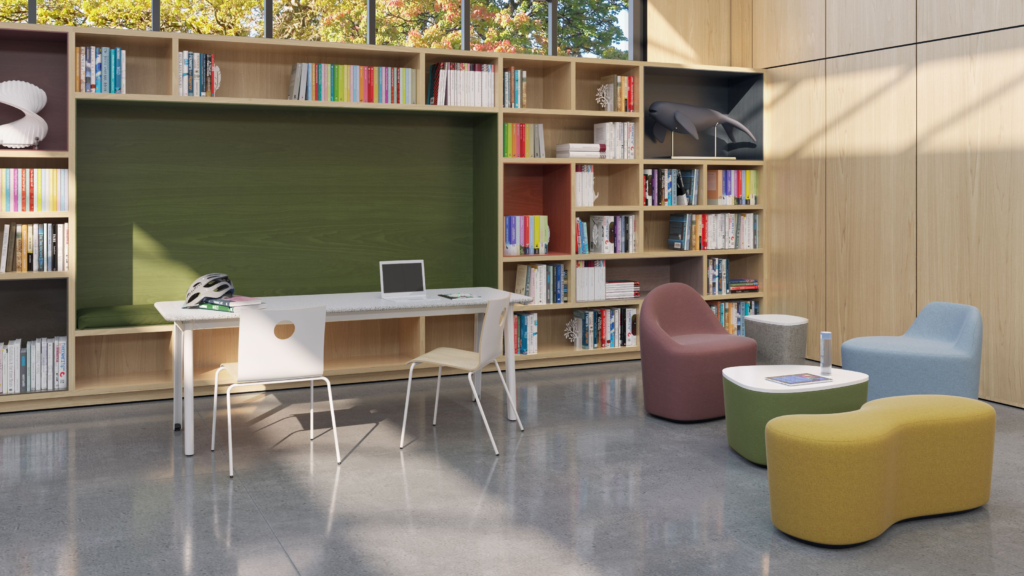 Product: Leland's Beach Stones come in both adult and child sizes along with various coordinating table options with different surface choices. Students' satisfaction with spaces is connected to whether they can manipulate furnishings within the space to suit their learning needs, so the furniture is lightweight and mobile enough to be easily moved throughout the day. In open work areas standing and regular height tables (Fixed tables) allow students to work alone or in small groups, and balance a mix of study spaces in the open congregated spaces.
Application: In a library area or in an 'information commons' there are both project and reading tables as well as a soft-seating area where one can easily re-arrange the upholstered pieces for reading in solitude or for a small group discussion. Soft forms and colors invite respite and reflection, and create different settings that respect individual personas and are therefore more inclusive.
1/1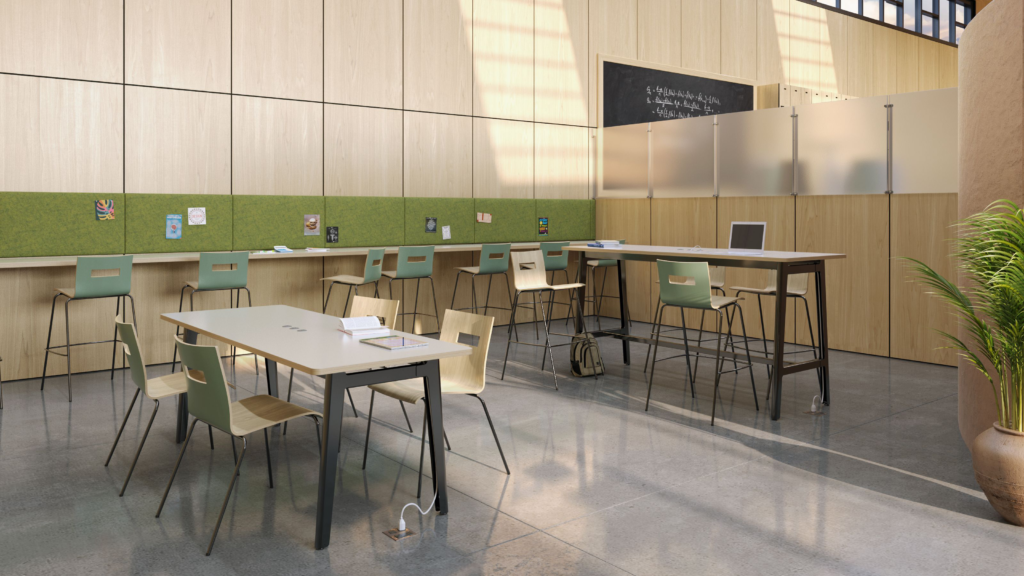 Product: The Fixed Table evokes a singular high aesthetic of a mid-century piece, brilliantly forming a functional metal extrusion into a shape that mimics turned and tapered wood – a change from the usual harshness of metal legs and table frames. A variety of tops from laminate, wood veneer to Corian and Forbo Furniture Marmoleum enable the same table to be used in maker-spaces and other heavy-duty work/crafts areas, as well as reading tables in libraries where the resilient Forbo surface is preferred.  In standard lengths up to 120 inches, the Fixed table comes in both counter and bar height as well as standard table height. Rather than build technology into the furniture with the removable parts and requirements for tools that one so often encounters, Leland's Fixed table is a solution where technology is cleanly supported in the tables while allowing for future flexibility. The unique metal extrusion enables any cabling to be dropped into any of the four legs, and the design is such that no clips or additional fussing are needed to keep the cords in place. The table-top technology itself is flush, thereby not impacting the full use of the surface when nothing is connected and offers a combination of outlets and USB ports.
The M2 stools can be had as both counter and bar height as well as chairs – all offering a variety of cut-outs in the back, or even an actual logo. The two-tone seat-shell affords pops of color on the exterior while the clear natural seat on the inside minimizes the appearance of any abrasions or scratching. These, along with many others on our website, meet the 500lb. test, and the frames can be had in a wide range of colors.
Application: Communal study areas must incorporate varying table heights and allow for single or group occupancy. Focused work can be done at a high surface as in the traditional study carrel mode; standing work where a quick impromptu session or some project layout is required can be performed at standing height tables, and regular height tables also allow for some group participation. The table layout should be easily reconfigurable and if powered, the 'plug and play' needs to be quick and intuitive.
1/1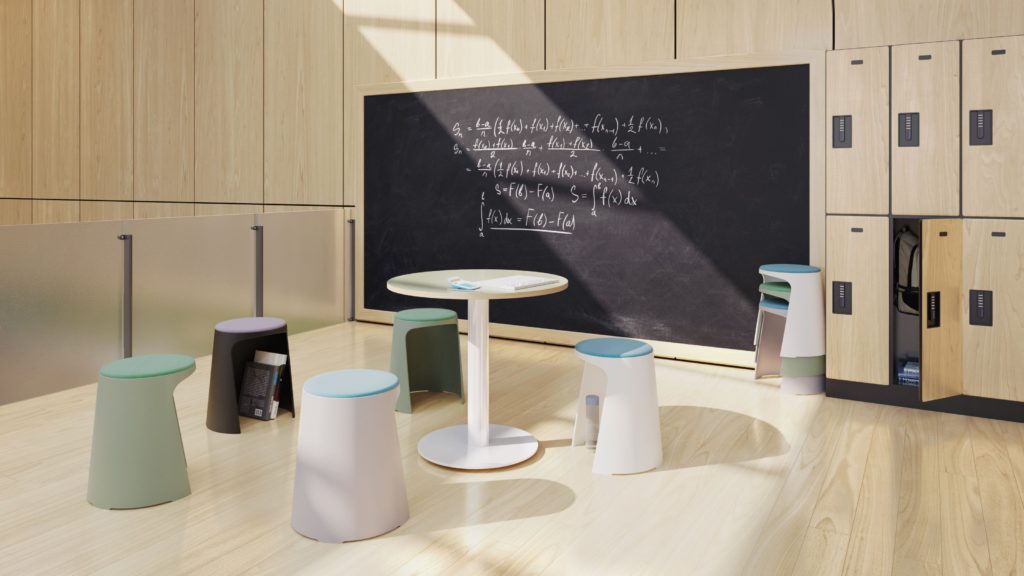 Product: A stack of Leland's Handy stools can be arranged in front of a chalkboard or writeable wall when needed for a breakout session from an adjacent classroom, or they may just serve as a spot to sit for a one-on-one session with a teaching staff member. Available with wood and upholstered tops in addition to the basic stool, the cavity not only serves as a storage cabin to keep one's possessions or beverages out of harm's way, but also affords the proper recess for placing one's leg(s) at the ergonomically correct angle when leaning forward. The flat disc bases and solid cone forms of many stools force our legs to remain out front, causing an incorrect arching of the spine when leaning forward.
The M3 table is available in a wide range of sizes and both counter and bar heights as well. The Forbo top shown here is another surface option which can be used to coordinate with the other Leland products also available with this type of surface.
Application: Contemporary interior architecture strives to avoid double-loaded corridors and dead-end halls in educational buildings, and all shared spaces should invite engagement and encourage interaction on a casual and spontaneous basis. Furnishing these areas can be problematic with code regulations for fire and egress, so the ability to pull up a seat and work with a white-board or other instruction tools calls for light moveable furniture where nothing is fixed.
1/1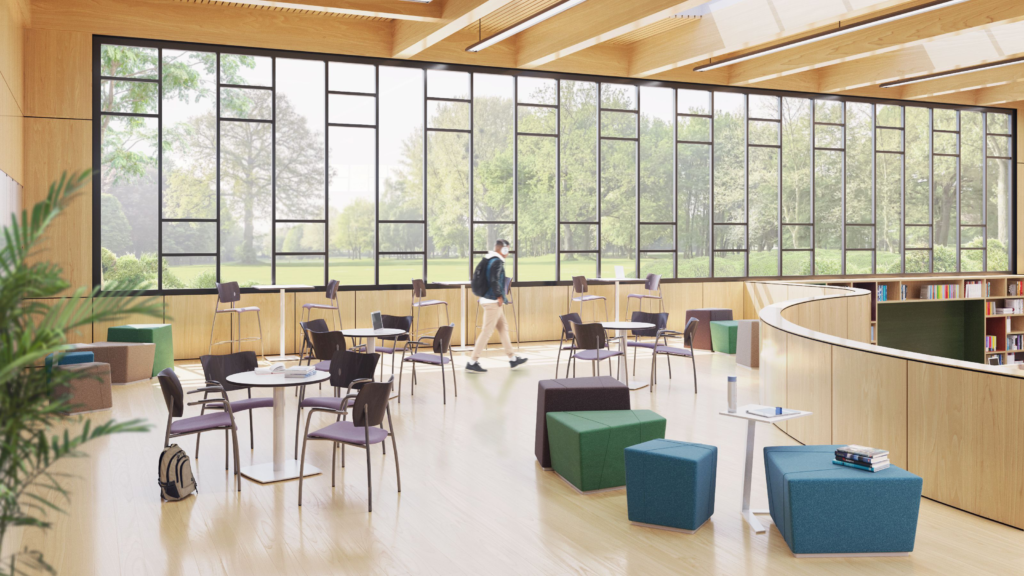 Product: Leland's Parfait II chairs offer a wider seat and an upholstery option providing a different and more comfortable experience than the typically smaller-scaled and less contoured classroom chair. A wide range of solid colors, semi-transparent wood stains as well as natural wood options afford the design opportunity to make any statement or expression of a school's culture or to invite a specific mood, especially when in concert with the many metal frame options. Parfait II can be had arm or armless and even on casters. Aside from the durability evidenced by its passing 500lb. testing, a unique feature is the ability to stack even the chairs with casters.
The Quarry collection is an assortment of soft seating in varying heights that also has a simple mobile tablet stand. Making true 'lounge-work' possible Quarry can also elevate a design with its sophisticated stitching detail option.
Application: The new social spaces are distributed throughout a school and are usually an expanded form of the typical circulation areas. In STEM settings and where classrooms can be opened up and combined when needed, we see adjacent areas where student teams can break out to prepare for a presentation, or simply where the break is merely an extended period between classes. Furnishings must support individual and group situations and hold up to constant use throughout the day.
The furniture investment will have the most potential to impact effective and flexible modes of learning so at Leland we see our furniture as a crucial strategic investment that will reflect an educational institution's culture and identity. Leland envisions the furniture also as a new pedagogy to promote engagement, health and well-being, along with the need to create an inclusive environment - but we also want to enable one that brings joy.
At the end of the day as is true in all good design, Leland believes 'less is more'.
For students who already may feel forced to go to the same place every day, any extraneous move to address them, be it slogans, supposedly inspiring sentences on a wall, colors that remind them they are children, or at least not yet like the grown-ups, will be felt as irritating and obnoxious. Sophisticated materials and finishes mean 'respect', and at Leland student furniture ('just kids furniture!') is not 'play-play', cheap plastic, almost junk stuff in loud colors. Drawing on the natural environment Leland's materials and colors are for classrooms that inspire students, and for spaces that are light and airy, even for older spaces that are more traditional, as not every classroom will follow the same template.
We understand that as schools compete for parents' dollars the facility has to differentiate itself with a furniture selection that supports superior programs and methods, including the encouragement of behaviors, and very importantly with the nuances of materials and colors enhancing both the levels of student engagement and their joy of learning.